Venmo: @bobbyswungover
This is the longer, Geek-Out version of this article which has lots of research and information. For the shorter, Snack-sized version, click here. Also, this is part of the Harvest Moon Ball essay series. To see all the Harvest Moon Ball essays, please visit Swungover's HMB page.
Aug 17, 1940
For you Geek-Outers, here's an interesting little column about the Savoy that was done by a social columnist in the Daily News on Aug 17, 1940.
Exit Shag, Enter Conga
The 1940 Harvest Moon Ball began with this article:
The "Collegiate Shag" division was finished at the Harvest Moon Ball. It is probably strange to the modern student of these dances that the event felt the Shag and the Lindy Hop were, for "all intents and purposes," "identical." We can't help but feel they looked at both and simply saw expressive dance being done to swing music and called it a day mentally. (We discussed this in some depth in our 1938 Geek Out article, as similar claims were made at the time.) Also notice this article more or less claims Bernie Sager invented the Shag, something two Collegiate Shag historians we have talked with both say is not true. (All of that is discussed in our 1937 Geek Out essay). As was common at this time, lack of information meant "history" was constantly being revised.
And what about this Conga dance that had gained enough popularity for a spot in the Harvest Moon Ball? You might think of the Conga Line, and indeed there is some Conga Line-ing in 1941's newsreel. But the contest wasn't five heats of people doing a Conga Line. Before we get to what the dance looked like, let's first talk about why the addition of Conga is a pretty important addition for us as Black American Artistic enthusiasts to discuss.
Conga was not just the name of a new dance craze, but also a type of Afro-Cuban drum, and a rhythm commonly played on that drum. (Yes, the rhythm you can imagine a Conga Line to — boom-boom, boom-boom, boom–BOOM — but, it also included other variations and also the layers of polyrhythms one can add on top of that). Conga was a sign of the growing influence of Afro-Cuban rhythm on American popular entertainment, and in a short amount of time Afro-Cuban-inspired Jazz would become big for decades in America.  
So then, what did this Conga dance look like? It was a partnership dance that didn't seem to be very cemented yet; even the Daily News said they'd allow "any interpretation of the dance provided the team does not separate more than three feet." It will be in the Harvest Moon Ball for two years, and our guess is this is Conga here at the beginning of the 1941 HMB clip.  There is also some Conga partnership dancing from soundies around this time, as well as at the beginning of one of this year's newsreels, as you will see.
Conga was sweeping the party dance world, and would indeed stick for awhile — there's a reason Whitey and Frankie would start calling their teams the "Congaroos." (Even if they didn't really do any Conga that we know of. The "Harlem Congaroo," they performed for audiences was really just Whitey rebranding the Lindy Hop and Jazz Dance they had always done. Just watch the Congaroos in Killer Diller in 1947. A few Conga-looking solo steps are the only sign of Conga.)
Prelims
At the Savoy prelims on August 9th, Coleman Hawkins was the band. He also judged (while his band played the music). Alongside were other judges, fellow heroes of Harlem, Willie Bryant, Lucky Millinder, and military officer Col. Bill O. Davis. Here were the finalists:

Those who've followed our essays will recognize a lot of the "teams": Mae Miller & Walter Johnson, Wilda Crawford & Thomas Lee, Esther Washington & Billy Ricker. And, Lindy history lovers will of course recognize  Ann Johnson & Frankie Manning. There's also the HMB veterans Norma Miller & George Greenidge (once again going under the name "Gren.")
This year marks Norma's fifth Harvest Moon Ball. She only missed one year, 1937, when she was recovering from exhaustion. And for three years she has partnered with "Long" George Greenidge. In our 1936 essay we unfolded the strange story of that year's winners — in all the newspapers and photographs, they are marked as "George Greenidge & Ella Gibson." But those winners didn't look, or dance, like George & Ella. For some reason Whitey had swapped out the real George & Ella for another couple of his, Mildred Cruse & Billie Williams, possibly due to injury, but also possibly as a power play on uncooperative dancers. The problem for George was that once you win a Harvest Moon Ball — or, more precisely, once your name has been written down as a winner of the Harvest Moon Ball — you can't compete again. This is why we conjecture George Greenidge competed for the three more years under two different names, "George Ricker" and "George Gren."
There's also some new dancers we get to meet this year, Louise Andrews & William Dotson. 
People who remember stories from Norma and Frankie, or have read their books closely, might find something striking about this finalists list. We'll explain more as the story unravels.
Before we move on, let's take a closer look at three of these finalists.
Wilda Crawford was born in 1921 to a mother who was a born New Yorker (Long Island nonetheless), which is rare in Black Harlem at this time — most of the neighborhood's adults came either from the American South or the Carribean. She lived in a house with her mother, three sisters and an aunt. According to an interview with her by Bob Crease, she began dancing at the Savoy and getting work as a Whitey's Lindy Hopper at a young age; this would be her third Harvest Moon Ball and she was only 19.
She was also strong, light, and throwable. For this reason, Whitey wanted to use her in a "comedy team" — a partnership often utilizing extreme body-type differences —  with John "Tiny" Bunch. But instead, after a few years dancing with Ernest "Champ" Harriston and making it to the finals of the '37 & '38 finals of the Harvest Moon Ball, Whitey put her with a childhood friend, Thomas Lee. 
In 1940, Thomas Lee was also young — he was born in 1920, yet another part of the Great Migration. His family came from Virginia, and complimenting Wilda's large family of sisters, he had a large family of brothers. As a young man joined the army for a year in 1937, and perhaps his return was when he began devoting himself to Lindy Hop and showbusiness. To give you an idea of the kind of person "Tops" was, give a listen to his daughter, Mama Lou Parks dancer and 1972 Harvest Moon Ball champion Crystal Johnson, talk about her pops:
From Integrated Rhythm Podcast, a conversation with Crystal Johnson:
Together, they had made it to the finals of the 1939 Harvest Moon Ball, and then spent 1939 on many of the grueling jobs Whitey's had that year. Despite the exhausting schedule, or perhaps partly because of it, they clearly honed their dancing to new heights and were ready to throw down in 1940's ball. (By the way, one of our favorite random Lindy facts: Wilda's nickname in the Whitey's Lindy Hoppers was "Quack-Quack." She didn't remember why.)
You've maybe heard of the name Jimmy Valentine before, and known a little bit about his unique dancing style — Vivian Larkin & Jimmy were the first couple of finalists mentioned in the article above. The article notes: 
Jimmy Valentine was a famous Lindy Hopper with only one leg. Born Paul Perrone in 1915, he had lost the other playing on a Brooklyn trolley car when he was five. A conductor didn't see Jimmy and the other boys playing on the back, and put the trolley in reverse, running over Jimmy. The young boy never let his crutch get in the way of his physical lifestyle, and fell in love with dance. By the late 1930s, he was a regular at the Savoy Ballroom, his favorite place to dance. 
Jimmy never shied away from jam circles, and for the climax of his shines he would often throw his crutch away and keep dancing even harder, and he could even free spin on the cane's leg. Whitey put the boy in his dancing troupe. 
Here is a picture of him from the prelims. 
We hate to break it to you, but he is not in the finals. Why not? Well, we'll start our answer by saying that when historian Peter Loggins saw this picture above, he said "That's not Vivian." Peter knew Jimmy, and sent us a photo.
"Here is Vivian." 
If this is Vivian, why did the newspaper show a picture announcing Jimmy's win with him and a different woman — a White woman? And why were Vivian and he not in the finals?
Peter has a good, but depressing, bet: The Harvest Moon Ball wasn't ready to put a mixed couple on stage at Madison Square Garden, and on its newsreels.
And, furthermore, the Daily News was probably not even ready to show a picture of a mixed couple in their paper, at least in terms of the competition. Indeed, out of all the Harvest Moon Ball Footage we have seen from its first few decades, we have never seen an obviously mixed-race couple. 
This does not shock us. In an interview with Bob Crease, Elnora Dyson told the story of how, in New Jersey, Jimmy had danced with a White partner named Edith, and the two had a Whitey's gig with a fellow Black Whitey's couple. When the manager saw they were planning on dancing on the same stage at the same time, he refused and told them to dance one after the other  — when Whitey  found out, he told the dancers to pack their bags, and the manager relented. Jimmy also told Peter that when he performed with a Black partner with the Whitey's in Southern tours, he had to "blacken up," — slang for putting on Black-face makeup.     
UPDATE: All of this said, there may be an additional complication. Historian Lewis Orchard, a master in genealogy paperwork, says all his research points to Vivian Larkin being the name of a White person. So perhaps the original picture was correct. If that's the case, what would keep them from the finals? Perhaps Whitey, not the contest, was the agent involved. (Thanks, as always, Lewis!)
However, we should still honor Jimmy Valentine and Vivian's triumph — a partnership involving a dancer with only one leg had made it through the Savoy Harvest Moon Ball prelims.   
Oh, by the way. Here's Jimmy in his older age, dancing with Sylvia Sykes. (Note the coincidence that they are dancing to "Woodchippers Ball," the very song heard in the finals of the 1940 Harvest Moon Ball newsreels, the finals Jimmy was not allowed in.)
Finals
Finals were held August 28, once again in Madison Square Garden, and once again to a sold out crowd of 20,000 plus. Woody Herman would play the swing music in the finals. 
Here is the one of the few 1940s Harvest Moon Ball newsreels we have (note the Conga at the beginning):
We have yet to find a program for this year, 1940, making this the first year we don't have the program listings to match dancers to their numbers. However, the listing of the Savoy finalists from the Daily News is *usually* the order the Lindy Hoppers are given in the final numberings — probably because both the News and the HMB organization were getting their names and order from the same master judge's sheet. This year, something was off, but the solution appears easy: it looks like, for the order, the list was copied from bottom to top — and thus, the order simply reversed (there is one trip-up in the order, but we believe the inversion still holds up, and the trip-up had to do with Vivian & Jimmy being substituted).
So with all of that in mind, here's our guess at the numbers (an [*] means we have a confirmed, clear number ID spotted on a couple we're confident we can identify based on their face/body type/dancing):
[Heat 3:]  57: Anne & Frankie (*–number via elimination),  56: Norma & George*, 55: Mae & Walter, 54: Wilda & Thomas*, 53 Unknown partnership (*–number seen, even though partnership is only on screen for a split second  unknown — Vivian & Jimmy's replacement?) 
[Heat 2:] 52: Esther & Billy*, 51: Louise & William. 
So, it all seems to fit. Vivian and Jimmy's replacement would be the natural choice to be out of sync with the numbers, whereas all others seem to fall in the inverse order of the finalists mentioned.  Though we should mention another possibility is that Louise & William are the #53 mystery couple, and were moved from their position at the end of the list for some reason.
Here is our breakdown of the films:
Lindy Hop
HEAT A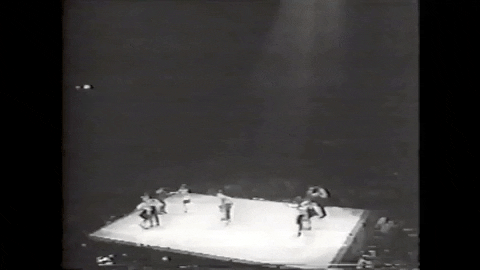 We were very thankful for the woman in the light dress that has a dark bottom pattern on the skirt. It made sorting out this heat particularly easy. Otherwise, it's a heat of perfectly fine jitterbugging. However, if anyone was truly thinking that Harlem's Lindy Hoppers would have any strong competition from this group, the next heat would have quickly proven them otherwise. 
It makes us wonder if the HMB by this time was purposefully saving the All-Harlem Lindy Hoppers heat for last due to the fact that anything else would be anti-climactic. And the evidence suggests that: the first two years the Harlem dancers were in the middle heats;  but then from 1937 until now they've been the last ones.
HEAT B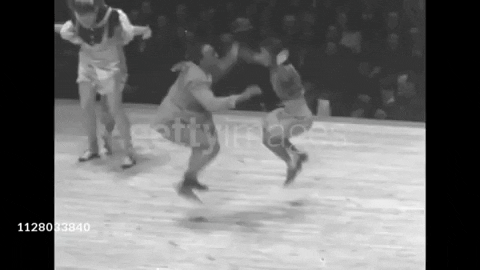 We wanted to show this couple mainly because this is what some of the White dancers have come to: clown suits. These two are expressing something they think about Lindy Hop by wearing outfits with clown buttons plastered all over them. What do you take away from this? To us, it clearly is trying to say Lindy Hop is a cartoon dance, a child's dance, a goofy dance. Though they care about Lindy enough to practice it for the hundreds of hours probably required to make it to the Harvest Moon Ball finals, they clearly didn't look at what its Black Savoy dancers wore, and what their costume choices said about the dance. We have *never* seen Black Americans in the Harvest Moon Ball wear anything that cheapens Lindy Hop. Yes, they express humor, yes they express joy, yes they express amazing feats of acrobatics in eye-catching satin costumes that say "Look at this." But none of their Harvest Moon Ball attire has ever said, "we are clowns."  
For contrast, let's look at another White couple in this heat.
Tiny Anne & Tony Small
Back again for this year's finals are Tiny Anne & Tony Small, a couple that obviously embraced Harlem's "comedy team" tradition. From first generation Lindy Hoppers "Shorty George" & "Big Bea," to 1937 Champs "Shorty" Davis & Gladys Crowder, and even to some extent Mildred Pollard and Al Minns, the pairing of a smaller, energetic man with a strong, taller woman had a rich history in Lindy showmanship.  
This White couple doesn't wear clown suits. Instead, they tell humorous stories with their dancing while still keeping a high level of power and energy in their movement. When they watched their Harlem idols, they obviously looked closely. 
(Likely) Louise Andrews & William Dotson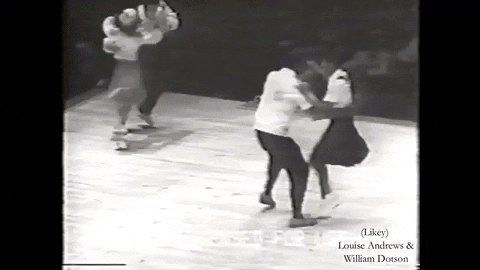 These dancers, whom we have guessed to be Louise & Bill, are by our are the winners of this year's "Who the hell are these awesome dancers?" award. Well, we know a little about Louis, but we personally have never heard of Bill mentioned in our research before. Together, they have a very aggressive dancing style that really pops. And look at Louise keep her feet going solid a million miles a minute throughout the deluge of moves. They clearly came to throw down.
Once again, we are very lucky to have an interview with Louise available thanks to herself, Bob Crease, and the Frankie Manning Foundation. Born in 1924, Louise Andrews got her nickname, "Pal," from her godfather. She was one of the young Lindy Hoppers recruited in these previous years, her first gig being the grueling show at the Savoy Theater at the World's Fair. She greatly admired Norma Miller, an understandable role model for a young, independent girl. Over the next decade she would become very close to Whitey — she was engaged to his son (until she realized the relationship would interfere with her dancing too much), she moved to upstate New York to help Whitey run his bar after the war, and many suspected she and Whitey were also romantically involved, though she never said so herself. When Whitey passed away, she would be one of the ones by his deathbed. After his death, she returned to Harlem, where she worked at the Savoy.  
"Pal" will be in at least two more Harvest Moon Balls, once with fellow Whitey's Lindy Hopper Snookie Beasely in 1942, and once again in 1944 with a partner named Johnny McAfey, the year she will win. (We usually like to keep champions a mystery until we get to that year, but sadly both of those years happen to be two of the years of the 1940s HMB we haven't found any footage of yet. So, we figured we'd mention her now, when you can see her dance.) We compared this photo from 1944 to the dancer above — and as well as the resolution allows us to see, it looks like it could be a match. Also, that's possibly the same pinafore. (Another thing that often supports some of our IDs — these dancers only had so many performance outfits and there was a lot of variety among the styles and coloring.)
In the 1950s, the next generation of Savoy dancers would be registered for their own Harvest Moon Ball contests by a champion:
We mentioned earlier the mystery couple, #53, in the next heat, could also be William & Louise, though it would be strange based on the order of the prelims. But the reason we are somewhat shaky on this is because a currently un-identified "Bill Dotson" is in the 1941 HMB, and a tall, thin, Billy Dotson is dancing for Norma Miller in the 1960s. On top of all of that, we know their is a good possibility that the Dotsons were a 30s father and a teenage son who lived across the street from the Savoy. So, we are currently trying to solve the puzzle. If anyone reading this has a 1940 or 1941 HMB program, we would love a picture of the Lindy/Jitterbug listings!
Esther Washington & Billy Ricker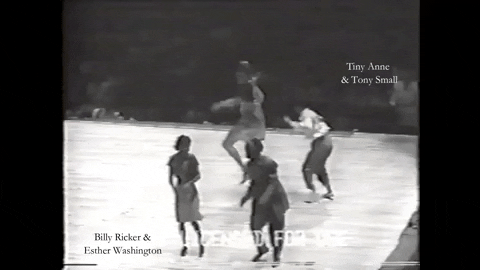 Esther Washington is here dancing with Billy Ricker, whom most readers would be familiar with as Norma Miller's partner in Hellzapoppin — in that routine, Billy is the one in the iconic chef's outfit. Clip geeks will often recognize his warm smile, his eyebrows lifted in mischief, and his stylish pompadour when they look for him.
His dancing in many ways is pretty different from fellow Whitey's Lindy Hoppers like Frankie Manning and Al Minns. For one thing, he generally dances with his feet wide, one under each hip, which gives him  a rooted style with a powerful, bull-like quality to his movement, and he doesn't tend to mule kick, or kick a lot in general, in non-Charleston patterns. All of these things reinforce how, overall, he's rooted like a tree — he can swing his partner kicking around and around his body (the Shake Around), and you never once worry he's going to loose his ground. 
Esther's dancing "lightness" and casualness are a beautiful contrast and compliment to Billy's style. She isn't sweating any of the powerful dancing her leader is giving her. 
As we saw with Esther and Billy in the 1939 HMB, their specialty is their powerful air and Esther's ability to appear like merely a rag-doll while flinging herself with great strength into their tricks. You HAVE to be strong to hold on during that Shake Around and then come up like it was nothing. You can see Esther's fantastic styling and obvious place as one of the Whitey's Lindy Hopper Leaders' favorite partners in The Spirit Moves, where she performs throughout. 
HEAT C  
Ann Johnson & Frankie Manning
The only disappointment to come from realizing this was the 1940 Harvest Moon Ball footage was the follow-up realization that the only time you see Ann Johnson & Frankie Manning in it — one of the greatest performance Lindy Hop partnerships of all time —it's just for a few seconds and they're either behind someone else or half off the screen.
So, here you go: the entirety of Anne & Frankie's dancing in this year's Harvest Moon Ball. You will definitely have to watch it a few times to even find them: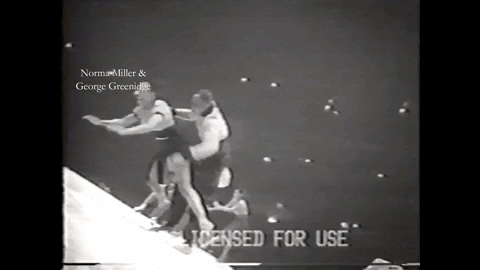 Here, we see them doing some Skates behind Norma & George, and we see them do some Swing Outs and a Leader's spin on the right side of the camera. 
We don't know much about Ann Johnson, Frankie's famous flying partner. Frankie said of her, "She was like a cat. No matter what way I threw her, she landed on her feet."
Anne would be Frankie's partner until 1952. We're not even sure when she was born, or when she died. Or how she spelled her name. Newspapers print it both ways, Ann without an "e" and Anne with an "e," (which anyone from Green Gables knows is the much preferrable one). Census shows a Black American Harlemite Ann Johnson born in 1913, and an Anne with an "e" Johnson born in 1923 — if that is our Ann, it would make her 14 in her first Harvest Moon Ball, and 18 around the time of Hellzapoppin. Which would make her definitely on the young end, but not out of the question. But, she also could have not been on either of the censuses. This is Ann's second Harvest Moon Ball, she made her debut in 1937's ball. 
What can we say about this tiny bit of dancing? Well, unlike previous years where he wore dark suits, Frankie this time is wearing one of the Whitey's professional satin performance outfits. They probably glowed under those lights. The one swing out we see them do is notably not 360 degrees.     
This is Frankie's 3rd and final Harvest Moon Ball. In his autobiography, he mentioned he felt he didn't want to do the contest and had become a professional by this point. Perhaps it was just us, but we felt there was the implication that he was now at a level of professionalism in his dancing career that he didn't feel comfortable breaking the amateur spirit of the contest. 
As we mentioned in our first essay, the Harvest Moon Ball wasn't Frankie's kind of contest. Though it's a shame we don't see more of his dancing in it, perhaps it's only right that his dancing in Hellzapoppin' and other Whitey's projects stand as his legacy of performance. That might very well be the way he would have wanted it.        
Norma Miller & George Greenidge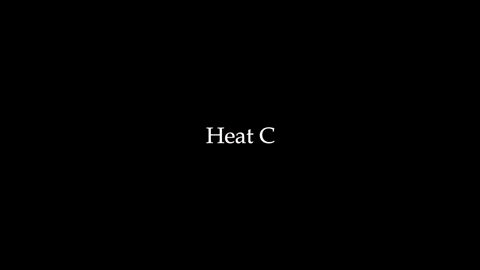 Norma & George, at it for the third year in a row, throwing. down. George's leg spin into a split? Come on. That thing's gorgeous. Norma's power, as always, is fierce and beautiful — watch how she goes through her Baby Drop then chucks George over her shoulder. That's the first time in the footage we have a woman throwing a man in this step. They may have pioneered it. Finally, check out that fantastic Charleston sequence and exit. We get to see it from two angles: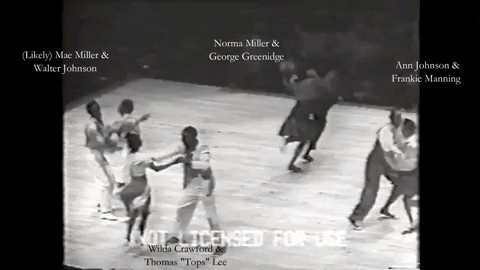 Wilda Crawford & Thomas Lee
In 1939, Wilda & "Tops" were the first couple we had ever seen in the footage to do an Over-the-Head (what we tend to call a "Pop Over" today) from standing. (The year before, Mae Miller & Walter Johnson had done one from the position they get to in a front handspring.) Wilda & Tops' 1939 version was a little rickety, and understandably so, because they were at the dawn of the step's creation, possibly even its inventors. Well, look how its going now (bottom left):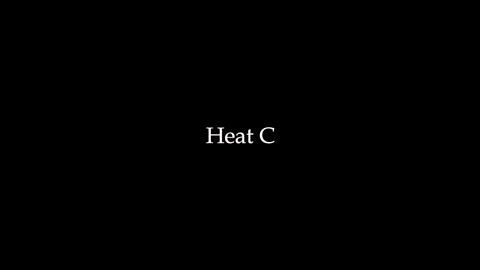 The power, the ease, and the head clearance are, needless to say, impressive, especially at this time, when no one else on this dance floor that we know of is doing this step — a step that will always drop the jaws of an audience. 
By the way: We mentioned Tops & Wilda may be the inventors of the Over-The-Head. How do we figure such a thing? Well, it's certainly speculation on our part — for instance, "Top's" daughter, Crystal Johnson, doesn't remember her father mentioning anything about it. But what we have noticed in these first six years of the Harvest Moon Ball footage especially is that often times there is only one couple shown doing a specific air step or trick step for the first few years before we see other people doing it, if other people do it at all. We've noticed it a lot in the footage, and the Over-the-Head has now been done by Wilda & Tops in two HMBs and no one else is seen doing it — but by 1941, all four couples in Hellzapoppin' will be, as well as couples in the 1941 HMB. And it will become more or less a standard of Lindy Hop, seen in almost all film performances involving Whitey's Lindy Hoppers after this. It's our speculation that the Whitey's Lindy Hoppers respected a couple's or dancer's innovations and allowed them to own it for awhile before others started picking it up. 
Next up, they perform a move they almost definitely made up, or at the very least, was a signature step no one else performed. It was a move so sensational that three different cameras catch it from three different angles and put it in the newsreels: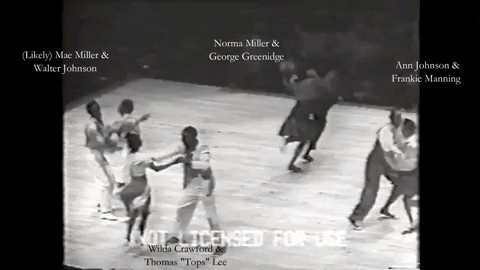 Frankie Manning called it the Wrap Around. Thomas's daughter calls it, the Around-the-World.
Just for a moment try to imagine you've never seen this now-iconic air step. Most of the Air Steps you've been seeing are partners being held up with their legs kicking in the air, strange mind-bending tricks like 'Round-the-Backs, and flips like Neck Snatches and Handspring Front Flips. Impressive, certainly. But at this point most of the dancers on stage are doing those steps. Then, out of nowhere, one dancer is constantly swinging their partner around and around their body, legs and arms flying — it wasn't just a new air step, it was a different type of movement all together.
Mae Miller & Walter Johnson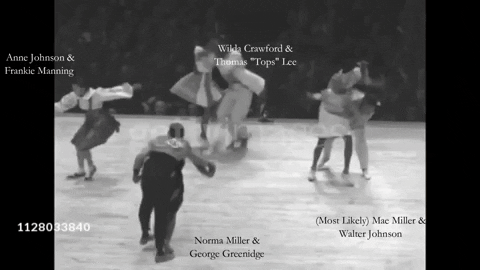 This couple at the right above, marked "(Most likely)", matches what we know of Mae & Walter in body type, movement, and move choices, and if the numbers were indeed reversed as they seem to have been, that further confirms this is Mae & Walter. Our *only* reservation is that Walter doesn't appear to move near as energetically as we've seen him in his other competition footage. There could be a very good reason for this: he could be tired as hell. The camera could have caught him near the end of the heat or after a particularly gruesome sequence. But, that said, we're still almost certain it's them. Here's them doing one of the moves that was their specialty: Walter jumps over his partner and almost falls into the audience.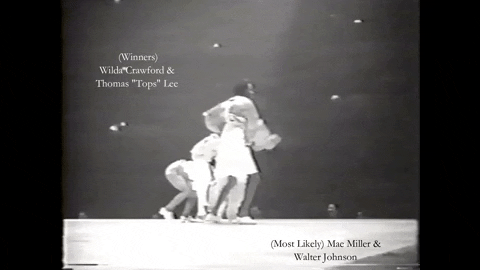 It looks perhaps accidental, but it's planned; You can see them do this move in the 1938 Savoy prelims, body surfing Walter into the crowd: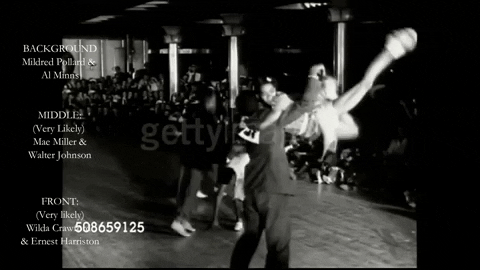 Frankie talked about running and diving into audiences himself in his book. This is yet another move that one couple does multiple years that no one else we've seen has copied, despite it being an obvious eye-catcher (more on that below).
For three years now they've been in the Harvest Moon Ball finals. They were already good, and each year they have obviously gotten better and better.       
? & ?
Those who have been following our essays closely may have realized that this year (and in 1939), each heat had five couples instead of four. We only see this heat's fifth couple for a brief glimpse. This is the couple that replaced Vivian Larkin & Jimmy Valentine. We can't tell who it is, we don't even have a good guess. They are at the bottom of the screen here doing a Leap Frog and a  Neck Snatch.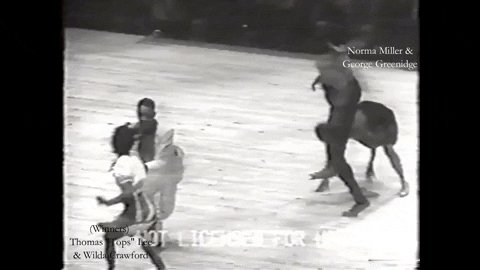 Ann & Frankie and Norma & George in their primes, Wilda & Tops and Mae & Walter bringing new energy and style, and all of them feeding off each other… if we were allowed to go back in time and watch only one heat of the Harvest Moon Ball, we might very well choose this one. 
1940's Lindy Hop   
The last few years have seen a shift towards more powerful air steps and long, strung together air step sequences. This year, rather than seeing a lot of sequences, we couldn't help but notice the presence of lone, powerful signature steps caught on the newsreel. Esther & Billy's Shake Around, Mae & Walter's audience dive, Wilda & Tops' Around the World. And, as we shall see, each of these couples will place. Rather than long sequences, these single steps have the benefit of taking up time and asking for attention while standing out in a sea of movement. We know two of these steps have been around before this year, so we don't think this is a grand new idea — but perhaps is just a sign that most of the other air steps and air step sequences are not as noticeable now that so many other couples are doing them. This is just conjecture, it could also just be a coincidence the newsreels caught these, and that they happened to be done by the placing couples. 
One thing we have noticed less of over the last few years of the Harvest Moon Balls among the Whitey's are obvious "comedy teams." This is also striking considering comedy teams have arguably made up half the champion teams in the balls so far — Edith & Leon ('35), Gladys & Edie ('37) and Mildred & Al ('38) all had strong elements of the comedy team tradition.
This decline in obvious comedy teams will continue. Perhaps this is because air steps become the trend and so people concentrate on "comedy teams" less, or perhaps it's because the grouping of mismatched bodies can make a lot of air steps more difficult. 
Overall, we have seen the Lindy Hop of 1935 evolve quite a long way to this point. This five year span is without a doubt the most evolution the dance will go through in its next five decades at the Harvest Moon Ball. The trend was significantly towards the more athletic dancing, with the faster music, more agile clothing, and gripping sneakers taking part in the change. To see for yourself, watch the 1935 video again:
Awards
The winners were, in first place, Wilda Crawford & Thomas "Tops" Lee. In second place, Esther Washington & Billy Ricker. And, in third, Mae Miller & Walter Johnson. And with that, Tops joined the White Suit Club — Leon James, Al Minns, and Eddie "Shorty" Davis all won the Harvest Moon Ball in white suits. (Technically, Eddie was in just a White jacket.) That means that by this time, 2/3 of the HMB leader champions of the contest had worn white. 
Geek Out: Author's Note
This newspaper listing of the winners above played a huge role in this entire projects' existence. Early in 2020, in my routine searching for Harvest Moon Ball material on stock footage websites, I discovered footage of the 1940 Harvest Moon Ball I hadn't seen before. It clearly showed a couple doing Norma Miller & Billy Ricker's move from Hellzapoppin', the Shake Around, and it clearly looked like Billy Ricker doing it. Because Norma and Frankie had both said it was Norma who competed with Billy in this year, I announced the clip as newly discovered Norma footage.  
Lindy Hop expert Angela Andrews, and Italian Swing Dance Society's Roberta Bevilacqua, both mentioned that something about it didn't look like it was Norma. I confronted the fact that it hadn't quite sat right with myself, either. 
In search of the answer to the mystery, I found the Daily News archives, and the winners listing above. That's not only when we solved the mystery (Billy was dancing with Esther Washington, not Norma), we also realized the Daily News archives was a treasure trove of information on partnerships and pictures of Lindy Hoppers at the Harvest Moon Ball. After exploring it, we knew it could help us organize all the footage we have of the Harvest Moon Ball, and help tell its story.         
In their books, Norma and Frankie also recalled that Ann & Frankie made third place, and Norma & Billy made second place in this year's ball. It was most likely 1939's ball that they were remembering, which had those placements (though Norma was dancing with George that year as well, and Frankie was with Lucille Middleton). Frankie, who often remembered he hadn't been in the 1939 HMB, might have therefore concluded it was 1940 that all of that happened, and Norma and Frankie put all the pieces together in the way it made sense to them. Again, we want to stress misremembering placements is not a big deal in the least. Frankie and Norma were trying to recover relatively insignificant memories (placements in a contest when they had done countless contests) over decades and decades and decades — it is natural for there to be a few mistakes.
The Day After
The only picture we've found in the Daily News from the finals was this lovely high-flying one of Wilda & Tops.
Bob Crease's article for the New York Swing Dance Society Footnotes had this picture of Tops & Wilda in the finals. Note Frankie Manning behind them, and that Wilda's shirt seems to be torn from the intense dancing (It's not the first, nor the last, garment that will be destroyed in the Harvest Moon Ball):
The Aftermath
The next day, at the Loew's theater, they took the following picture of the winners:
Perhaps you noticed something missing. It's striking that the Lindy Hop winners, Black Americans Wilda Crawford & Thomas Lee, Jr, are not in the picture. Based on earlier conjectures about mixed race couples, it's possible that the photographer did not want Black people around the White people in the same shot — this is just conjecture, but its worth pointing out that we have not seen any post Harvest Moon Ball pictures of Black contestants in the same pictures with White contestants in a social way. (There was one photo of all couples rehearsing together in 1935.)  
Back to Norma & Frankie's books. Both of them tell the same story, about how Tops & Wilda, Norma & Billy, and Ann & Frankie all went to the Loew's theater show afterward where Ed Sullivan emceed. If Norma & Billy and Ann & Frankie didn't even place in this contest, is this another false memory? Check out this mention in the Daily News: 
So, this article supports that memory. In the past, whenever more than one couple went to the Loew's performances, it was so far only those who had placed. We conjecture that this is a good reason why Norma and Frankie later figured they had placed in this year's ball. But as to the real reason why these three seemingly random couples were chosen to perform at Loews, Frankie has a good answer for that in his book — he says HMB emcee Ed Sullivan saw the three coupes do one of their ensemble Whitey's routines together in the contest, and that's why he thought of them for the show. And as we have seen, they were indeed all in the same heat.    
So, Herbert Whitey had yet another championship couple. But, like many Lindy Hoppers before them, Tops & Wilda could only last so long in Whitey's, and in 1941, they left the group. Unlike many of those others, though, they continued working in Lindy Hop, and for the next decade did it professionally. In the past there are several stories of Whitey having intimidated and even assaulted Lindy Hoppers who broke ranks and went off on their own. If that happened to Wilda and Tops, they never mentioned it in what few little interviews they left behind. Perhaps Whitey had loosened his Lindy grip by this time, or perhaps Wilda & Tops left with his blessing.   
We have mentioned that Wilda & Tops would become one of the greatest performance Lindy Hop couples of their time. We know this because, in 1946, they performed in a highly praised Black-American film "Love in Syncopation." After doing a swanky Tranky Doo (a "Swanky Doo"?), they end with a blazing onslaught of high flying Lindy Hop, complete with glorious swing outs and turns and a stream of air steps, each one flowing beautifully with explosion and height.    
This year's Harvest Moon Ball would mark the passing on of a torch. Veterans like Norma Miller, Frankie Manning, and Billy Ricker would retire from entering the Harvest Moon Ball. One possible reason for that might have been hinted at in this story in the Daily News that came out in September of this year's ball:
Perhaps Whitey and his veterans felt the jig was up. Though we suspect the HMB organizers must have known for years, the press, at least, had finally discovered Whitey's penchant for entering professionals into the amateur contest. Perhaps the contest organizers cared, perhaps they didn't — the Lindy Hop, was, after all, their greatest attraction. Besides, Black American art didn't have many footholds in the world. Whitey and his dancers had made sure the great Black American artform was broadcast to the world. How do you feel about it, dear reader? Do you blame them for entering professionals in the amateur contest under their cultural circumstances?    
Before we move on from this year's ball, let's give a well-earned amount of respect to Norma & George. In the three balls they were in, whenever we see them, they are dancing their asses off. We suspect that George especially was dancing to prove something after what had happened in 1936. We may be reading into it, but his dancing has a fierceness to it that looks a lot like righteousness. They show up to win every year, and it didn't happen. Shortly after this George Greenidge will stop dancing for Whitey's Lindy Hoppers. But his Harvest Moon Ball story isn't done yet. 
Though many of Whitey's veterans had either won or would otherwise stop dancing in the ball, Whitey would still oversee his other well-trained Lindy Hoppers at the Savoy, and get them ready for their debuts. And the absence of the veterans would allow a whole new, upcoming generation of Whitey's Lindy Hoppers to take the stage in 1941. 
This marks the end of the long-form Harvest Moon Ball essays. Beginning with the 1941 HMB essay, we will have shorter pieces that will still showcase pictures and video and introduce great Lindy Hoppers of the past — dozens of them. However we will also be entering a post-Swing era time when we unfortunately don't have a lot of information or stories on the dancers involved. We will do our best to uncover what we can.    
Venmo: @bobbyswungover
Additional Notes:
Even though we try to express in our essays the reasons for our confidence, or lack thereof, in our IDs, that might be a little much for people to wade through if they are looking for why we think someone is who they are. So here is a little chart to show our reasoning. Please note that, as there is evidence Whitey would switch out couples but keep their names, we can't be completely sure about ones we're unsure about, especially those that follow into the (Likely) category.
Tiny Anne & Tony Small: Picture recognition, 1939 HMB recognition.
Louise Andrews & William Dotson (Likely): Elimination and heat , comparison to 1941 HMB dancing via recognition and elimination.
Esther Washington & Billy Ricker: Facial, body type, dancing recognition, elimination in finalists names. 
Anne Johnson & Frankie Manning: Body type, dancing recognition, picture identification, elimination in finalists' names. 
Norma Miller & George Greenidge: Body type & dancing recognition (very obvious to us in this instance). Name elimination.  
Wilda Crawford & Thomas Lee: Picture identification, body-type and dancing recognition.  
Mae Miller & Walter Johnson (Most Likely): Body type, dancing recognition, move recognition. (See their dancing section above for specific note on ID.)
Note: One couple's identification missing from finals, only seen for a split second.
Sources & Thanks
Huge thanks to Crystal Johnson for her help with information in this piece. 
Huge thanks as well to Cynthia Millman and Judy Pritchett for their help in reviewing aspects of this piece.  
Huge thanks to historian Peter Loggins whos article on his blog The Jassdancer, and personal conversations helped us get to know Jimmy Valentine and helped us understand the Jimmy Valentine Harvest Moon Ball situation.
Huge thanks to Lewis Orchard for his constant help in researching and bouncing ideas off of.
Except where otherwise stated, all newspaper articles, pictures, and information on the details of the 1940 Harvest Moon Ball were taken from editions of the New York Daily News.
Thanks so much to Robert Crease, Cynthia Millman, and The Frankie Manning Foundation for republishing the fantastic Robert Crease bios which are a great wealth to these articles specifically and the history of the dance in particular.
Whenever we refer to either "Norma's Book" or "Frankie's Book," we are speaking of their memoirs: Swinging at the Savoy: The Memoir of a Jazz Dancer by Norma Miller and Evette Jensen, and Frankie Manning: Ambassador of Lindy Hop by Frankie Manning and Cynthia Millman.
All spelling and grammar issues are mine alone. One Man Army!