Venmo: @bobbyswungover
This is part of the Harvest Moon Ball essay series. To see all the Harvest Moon Ball essays, please visit Swungover's HMB page.
WAIT A MOMENT, WHAT HAPPENED TO THE 1941 HARVEST MOON BALL ESSAY?!?!
We are skipping over the 1941 HMB at the moment because, well, it's having a real identity crises. Out of the 20 years of videos we have, 1941 has so far been by far the hardest to nail down the IDs for, and we've decided it's best if we wait on that one. Ideally, we will be able to get our hands on one of the programs for that year, which would help a lot. If you know of one of those, or have one of those, please let us know! (All we need is a picture of the finalists' names and numbers listing.)
*** NO FOOTAGE OF THIS YEAR'S HMB ***
UPDATE 9/15/21: Footage found! We have added the ID video. HUGE THANKS to Eric Esquivel for finding the footage!!!
We want to break the news before we get further — we have never seen footage of the 1942 Harvest Moon Ball in all of the archives we have searched. (This is also the same for 1944.) It seems strange there wouldn't be any, because with only these two exceptions, the Harvest Moon Ball and its Jazz Dancing specifically were shown in newsreels every year from 1935 to 1956. So, we expect it's perhaps out there somewhere, and we just haven't found it yet, or there were extenuating circumstances. Those circumstances might be the fact that World War II had just begun, and the news companies prioritized other things. That's just conjecture on our part. We would not be surprised if the 1942 footage were out there somewhere. We will keep searching. If you have seen 1942 footage (or 1944) please let us know!
Meanwhile, enjoy the pictures, the history, and a few fun discoveries. Also the length. Enjoy the short length.
Wars & Dancing
1942 was the first Harvest Moon Ball that would happen while America was at war. The most obvious way it affected the contest was the announcement of a "servicemen's division" for each dance, including Jitterbug. But let's see if it will have any other affects on the event over the next five years. The servicemen's division allowed for any allied serviceman, be they amateur or professional. The profits of the ball would go to the USO.
On a more pleasant note, it appears Harlem held a Harvest Moon Ball for little kids as part of a (cough) 4-hour long performance by children of Harlem. Willie Bryant hosted:
"Jitterbug-Jive"
In 1942, the Lindy Hop division changed names to the swing-dance catch-all, "Jitterbug Jive." The article below explains the term, but doesn't explain the reason for the change. Based on the general language, we would bet that there were enough Shag and other swing style dancers desiring to enter the ball that the organizers decided to lump them into one contest. Spoiler alert, it won't matter much. Lindy Hop, especially Harlem's version, will reign supreme throughout the Ball's entire run.
Prelims
Savoy prelims were held August 14. Lucky Millinder was the band. Here's the finalists listing, with HMB reporter William Murtha's fun-but-still-respectful coverage. (As opposed to the first reporter of the HMB, for instance, who always described Black American Lindy Hop using overly-silly descriptions and commenting on how Black people have rhythm.)
The article above gave all the finalists: A couple veterans the HMB has seen before, Louise "Pal" Andrews & "Snookie" Dotson Beasely (who was at the very first ball in 1935) signed up, but otherwise it's a completely new crop of dancers, none of which were in previous HMB finals. This marks a big change for the Savoy dancers — in the first six contests, you'd usually see at least a few couples from the previous balls, as the couples fought for their chance at the championship. We don't know how much the war might have played a role in this, as young men in Harlem were either joining the war effort or being drafted. Many of Whitey's dancers would serve.
The other finalists are Pinky Andrews & James Waltuo, Leona Jones & Foster Hickson, Jean Wyatts & James Lee, Theresa Mason & Paul Chatwell, Jerry De Moska & Alfred Bethel, and Carrie Frederick & Raymond Harris.
One of those names might be familiar — Alfred Bethel was a young dancer from the South that we'll discuss in a future essay. But we'll leave you with this much: he was nicknamed after his favorite drink — "Pepsi."
And, one of our proudest moments in this entire research process; one of the names holds a secret that blew our minds when we solved it. We were watching a later clip with James Waltuo in it with Sugar Sullivan, who said "He's dancing like James "Blue" Outlaw." We went cross-eyed, and suddenly realized "Waltuo" was the word "Outlaw" backwards. So there you have it, James, known for being mischievous, had flipped his last name for the HMB, most likely because he was a professional dancer and thus not allowed in the contest.
Notice as well the article mentions a dancer that's 7 foot 6 inches, Raymond Harris. Here's a picture of them from the Daily News.
You might have seen this dancer and didn't even realize it. He's the very tall dancer in the tall-man-and-short-man comedy team in 1942's Sugarhill Masquerade: (And for more on "comedy teams," try out the Swungover search bar on your upper right.)
By the way, one of our current projects is figuring out who all the Sugar Hill Masquerade dancers are. We believe we have five of the eight. Hopefully we will be able to discover them, and give a breakdown article.
By the way, an interesting article appeared in the Black American New York Age after the prelims:
The only articles we could find in the Daily News around this time that seemed to paint Harlem as a place of immoral vice were two articles. The first, an article about how the armed forces were ordering Harlem off limits due to increased venereal disease, because, they said, most complaints mentioned Harlem brothels. The article then goes on to mention New York City in general had become full of sex workers due to its common furlough destination for armed servicemen. In a follow up article the next day, the Daily News reported that the police commissioner was annoyed at the article for calling out all of New York, mentioning that Harlem had had twice as many vice arrests as the rest of Manhattan.
We can't be certain these are indeed the articles this New York Age is alluding to, since the paper didn't express specifics, but they are the only articles we've found that discuss it and it makes sense Harlemites would take offense.
As many of our readers can readily understand, the arrests in a Black neighborhood in America is rarely a true correlation to its crime, especially compared to White neighborhoods. It appears both articles could indeed be seen as discrimination against the Black American neighborhood by the armed forces, the Manhattan police commissioner, and, finally, the Daily News for implicitly supporting the vice reports by not providing a counter-opinion. (They could have, you know, asked the good people of Harlem their hot take on why Harlem was being singled out.)
So, all parties involved seemed to push the blame on Harlem, and a common reason to blame Black communities for vice was in order to uphold White morality's reputation. Which is doubly ironic, in this instance, considering the majority of soldiers were not Black, and so another implied message of the article is "Hey! All of our Non-Black servicemen are employing Black sex workers!" (Only, you know, a lot of people of this time would have preferred "screwing," "whores," and words starting with "n.")
No, there's no possible alternative reason why police reported higher vice crimes in Harlem, blamed the neighborhood, and made Harlem off-limits to soldiers. Surely not.
UPDATE 8/27/21: A couple new articles we've found might add a little more explanation to the tensions between the White and Black communities in the city at this time. The night after the prelims, two White siblings returning home from a late-night party in Harlem reported that they were robbed, beaten, and sexually assaulted by a group of Black men. The initial story in the Daily News painted the picture of the assault bringing the police around who were able to capture some, and the siblings able to identify them. One of the victims, Charles Coleman, went to the Black American New York newspaper The New Amsterdam News and told them that the Daily News newspaper and police were lying, he couldn't make out any of the people, and he was afraid innocent people would go to jail. He also told the New Amsterdam News what a Daily News reporter had told him: "Cooperate with us on this thing because these n—–rs [sic] are trying to run New York and its up to young people like us to stop them."
Furthermore, the Negro Labor Victory Committee and the new Black American Harlem People's Voice newspaper investigated the incident, and charged that no attack had occurred on the woman and that the Black boys arrested were beaten severely by police before the trial that would by law determine their guilt. That story was not run — because the People's Voice, though Black owned, relied on White printers for printing. Those printers objected to the story and refused to print the issue.
By the way, the People's Voice was founded by Black American politician Adam Clayton Powell, Jr. Powell was encouraged to start the paper by Charlie Buchanan, manager of the Savoy Ballroom, and was partly funded by Moe Gale, owner of the Savoy Ballroom. Harlem is a family.
Finals
Finals were held Aug 26, 1942. Jerry Wald provided the swing music.
(Above) Servicemen's Listings
And here is the footage from this year's HMB:
Unfortunately, due to how short the snippets are, we don't have a lot to add about the dancing in this year's ball. We will say, however, that Jean Wyatt appears to be a badass: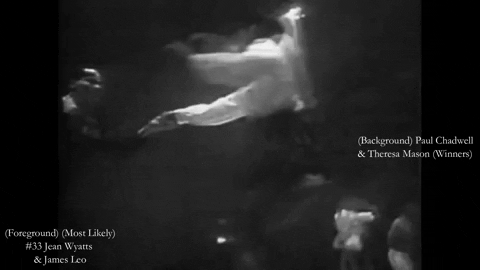 Also, Pinky Andrews & James "Blue" Outlaw do what appears to be a reverse Front Handspring (what many call "pancake" today) :
Winners
Winners for the Jitterbug Jive: In 1st, Theresa Mason & Paul Chadwell; 2nd, Pinkey Andrews & James Waltuo, and 3rd, Jerry De Moska & Alfred "Pepsi" Bethel.
Aftermath
After 1942's HMB, the following appeared in a Daily News review of the ball:
Every Harvest Moon Ball had been ending with the big overall contest, where all finalists competed in all the dances to determine the overall winners. It probably surprises no one that the Harlem Jitterbug finalists, who specialized in putting on a show, had been taking the attention away from the other ballroom dancers during the big all-around contest. This reviewer's concern is understandable, and their offered remedy — the Lindy Hoppers getting to do their own all-dance showcase, would have been an entertaining answer.
Next, notice the mention of an "Oswego Restuarant" in this snippet from a review for the Post-HMB Loew's show:
That restaurant is the club Whitey opened in the upstate New York city that rests against Lake Ontario. He apparently named the club "The Savoy" in honor of the ballroom that held such an important place in his heart. Several of his dancers moved there to work for him. Though, they were obviously still dancing, or at least training, if they were still making it into the finals of the Harvest Moon Balls.
This snippet appeared in Ed Sullivan's column about the Loew's theater show following the Ball:
A neat thing about this little story is that White comedian Eddie Cantor obviously had no qualms with dancing with a Black American woman on stage. We have shown how, even as recently as 1940, there seemed to be some discomfort with the concept (involving the Harvest Moon Ball's Daily News parent organization, at least), and here it is spoken of without any thought. Though, the fact that it was done as an obviously comical gag may have made it less threatening to audiences or the Daily News. And there was no picture, or mention of their races, which might have been intentional.
Sources & Thanks
Huge thanks to Eric Esquivel who discovered footage of this year and correctly identified Frank "Killer" Piro in the clip. It came from a very obscure dance documentary called "Sue's Leg: Remembering the Thirties." Fantastic find.
Except where otherwise stated, all newspaper articles, pictures, and information on the details of the 1940 Harvest Moon Ball were taken from editions of the New York Daily News.
Thanks so much to Robert Crease, Cynthia Millman, and The Frankie Manning Foundation for republishing the fantastic Robert Crease bios which are a great wealth to these articles specifically and the history of the dance in particular that have helped shape these essays.
Whenever we refer to either "Norma's Book" or "Frankie's Book," we are speaking of their memoirs: Swinging at the Savoy: The Memoir of a Jazz Dancer by Norma Miller and Evette Jensen, and Frankie Manning: Ambassador of Lindy Hop by Frankie Manning and Cynthia Millman.
All spelling and grammar problems are mine alone; one man army!