This is a new series breaking down the names of the original air steps of the pioneers of Lindy Hop from the 1930s-1980s. Check out other posts in the series here.
PLEASE NOTE! When considering what to donate, please note the steps, the original dancers who danced them, the names of the steps, and the contributions of the many who helped put names to them are not my intellectual property, and therefore are not what I'm asking donations for. Basically, I do not ask for donations for the creation of the content, but merely the researching, gathering, and compiling of the information. Please take that into consideration when donating.
Venmo: @bobbyswungover
***NOTE ***
Do NOT attempt these air steps without consulting experts on technique, spotting, and safety.
Seriously.
Side flip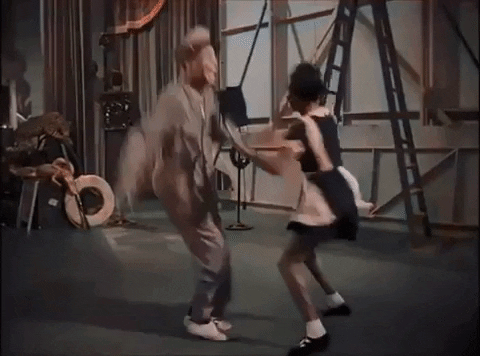 Frankie Manning called this the Side flip in his autobiography, and credited George Greenidge with its invention. And, further corroborating this is that George and Ella Gibson do the very first version of it on film in A Day at the Races:
George and Frankie were close, and often went to circuses and acrobat performances looking for new air step ideas.
The name "Side flip" also appears in Marshall Stearns' Jazz Dance, from interviews with Leon James and Al Minns, so it was probably the common name among the Whitey's. The most popular name in the modern era is Hourglass.
Some modern names differentiate the flyer's starting point or end point — for instance, some dancers would call this a "Charleston back flip," if it started in side-to-side position and/or ended in side-to-side position rather than traveling. There are also some who think of this style of flip in general as a "Knickerbocker," whether the thrower's hand is in front of the flyer's body or behind it (though most differentiate between Knickerbocker and Hourglass/Side flip). We will discuss Knickerbockers and Back Flips later in the series.
Note: Thought it's not right or wrong to think of "knickerbocker" as a general term for several different air steps, we recommend that, when practicing air steps, dancers have one specific name for each air step for clear communication and safety.
Original name: Side flip
Common names for the air step: Hourglass, Side flip.
Less common/Region-based: Arm flip, Egg timer, Fish flip (DC), Monkey bar (Montreal & others), Over the hand/arm, Timglaset (Swedish for "hourglass"), Roll bar.
Names shared with/easily confused with other Air Step's common names (So be careful using them!): Knickerbocker (See: Back Flip & Knickerbocker) , 'Bocker, Over the arm (see: Back Flip), Charleston Back Flip, Basket flip/toss.
Danger Zone: Due to pretty awkward starting position, thrower can hurt their shoulder/arm and back; as with all flips, flyer can under rotate and land on hands/head, or over-rotate and land on their back. An over-rotating flyer could take both dancers down relatively easily because of the vulnerable ending thrower position. Be careful out there, folks!
This is me working with Laura Glaess on a combo we saw done by Ryan Francoise & Jenny Thomas. The knee throw was inspired by Andrew Sutton, which, if you see in the comments below, might very well have been inspired by Lance Shermoen who did it that way in the 80s.
HAVE DIFFERENT NAMES? (Or fun stories about this air step?) SHARE BELOW!
HUGE THANKS
I must recognize the many people who helped supply names and background for these air steps and I thank everyone so much for their contributions to the research. Furthermore, I wanted to give a special thanks to some air step & Lindy history experts who went above and beyond the call of duty: (in alphabetical order.)
Nathalie Gomes Adams, Felix Berghäll, Kim Clever, Ryan Francois, Rusty Frank, Yuval Hod, Crystal Johnson, Mark Kihara, Nalla Kim, Tom Koerner, Peter Loggins, Mattias Lundmark, Cynthia Millman, Kenny Nelson, Daniel Newsome, Julie Oram, Forrest Outman, Zack Ricard, Anders Sihlberg, Benjamin Sundberg, Jenny Thomas, Annie Trudeau, Nick Williams.